לוח מפגשים וכנסים
הכנס השנתי נדחה ל-24-26.6.2021 | פסטורל כפר בלום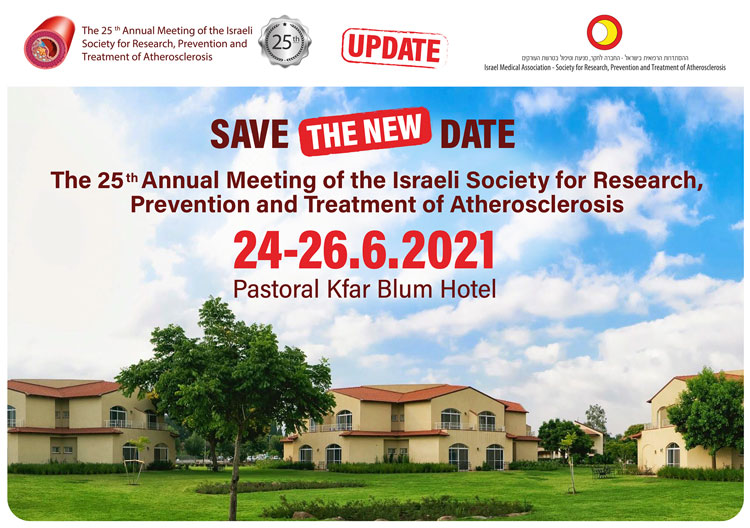 ---
1st Kuwait FH Symposium-4th Severe FH Masterclass & IAS ASPED Pediatric FH Satellite - REGISTRATION IS NOW OPEN!
We are pleased to inform you that the Registration at the:
- 1st Kuwait FH Symposium-4th Severe FH Masterclass (February 19-20, 2021)
- IAS ASPED Pediatric FH Satellite (February 26, 2021)
is now open! Registration is free for all attendees.
Please visit the official website of the event.
Looking forward to meeting you virtually please accept best regards.
Mohammed Al Jarrahlah

Raul Santos

Asma Deeb

Khalid Al-Rasadi

Co-Chair
Head Cardiology, Sabah AlAhmad Cardiac Center

Co-Chair
President IAS

President
ASPED

Co-Chair
President OSLA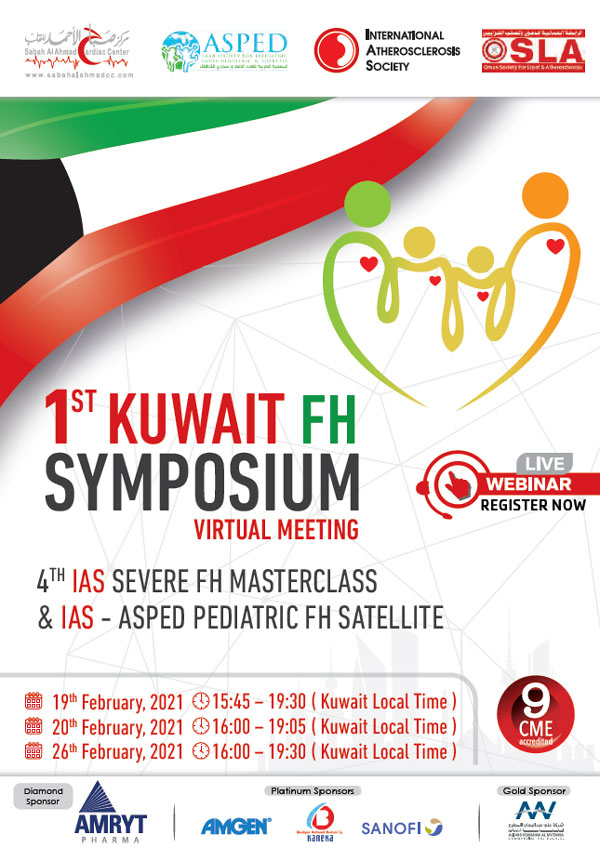 ---
EAS 2021 important deadline
Dear Israeli Society for Research, Prevention and Treatment of Atherosclerosis,
On behalf of the European Atherosclerosis Society and the EAS 2021 Congress, I would like to invite your society members to submit their abstract before the upcoming deadline.
Abstract submission deadline: January 12, 2021.
EAS firmly believe that presenting and discussing one's work with others is the key to progress in science. The EAS Congress will encourage all participants to ask questions and share ideas during the Science at a Glance and Poster Sessions.
Simply forward this email or share these links with your members:
Kind regards,
IVAN SIMEONOV
Senior Marketing Coordinator

---
---
---
FH Awareness Day Toolkit
Familial Hypercholesterolemia (FH) is the most common genetic condition leading to early heart disease. In fact, 1 in 250 people have FH. That's 1.3 million Americans and 30 million people worldwide.
FH Awareness Day was established in 2012 by the FH Foundation to raise awareness of familial hypercholesterolemia worldwide. This annual event is held on the September 24th, during National Cholesterol Education Month. Together, we raise our voices to help everyone #KnowFH.
Social Media Content
Below you will find this year's content for FH Awareness Day! Download and share these posts on your Instagram, Facebook, or Twitter to spread the word.
https://thefhfoundation.org/fh-awareness-day/toolkit
---
עדכון כנסים מאתר e-Med:
---